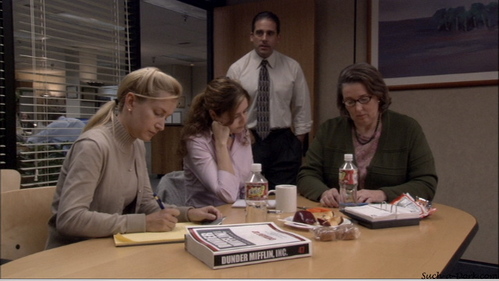 Even this party planning committee would be in
hell trying to find a space for a 3-year-old's party.
I am currently in the throes of planning L.'s third birthday party. It's kind of awful. When the fiance set out to finish the basement, I was told there was a good chance it would be done by the end of February, early March at the latest. Well, there was a snag when the guy who was supposed to hook up the heat had to get surgery on his hand and we now have no idea when it will be done.
Our upstairs is way too small for 15 adults and 5 children. Heck, when we have a simple playdate, it seems crowded!
We recently went to a birthday party for one of Layla's friends and the condo had a nice open floorplan, perfect for kettling little ones, while keeping the parents on the sidelines to act as ropes in a wrestling ring and bounce them back in.
So, last night, about four hours were spent on Google looking for a space to hold L.'s "The Lorax" themed birthday. Holy. Moly. First off, let's put some things into perspective:
She's 3. There's a very small chance she will remember this party. And, if she does, it'll most likely be based on the pictures she sees later in life.

Four hours on Google last night.
So many ideas to incorporate "The Lorax"
into her party, but where to have it?

I already have the theme picked out and most of the decorations and prep done. I just need to buy the food and the plates and set everything up.
I do not, and I'll repeat this so I don't get so flustered and forget, I DO NOT have $200-$300 to spend on a two-hour (TWO-HOUR) party at an indoor playscape or kid's gym or science center (yes, science and nature centers have the same price as your average Chuck E. Cheese's) or museum. Not to mention, two of the kids included in this party are younger than 1 and can't even participate in the toddler stuff.
I'm tempted to go to Michael's, since they just require a $50 deposit on a room and then you pay for craft supplies, but the website says the craft parties are really geared toward 5-12-year-olds. But, it is something to keep in mind for the future.
Basically, I just need a space. Just a simple space I can decorate, put food out, have some seating for the adults, have a place for the kids to play, and basically serve pizza, juice and "The Lorax"-themed snacks and call it a day.
L. couldn't care less about what's going on. She will also be having a party with her dad and his family. This little girls gets two parties!
But, my stupid mom-mind is in Pinterest-mode and trying to live up to last year's "The Very Hungry Caterpillar" party.
My Very Hungry Caterpillar Party board on Pinterest
Printouts for Caterpillar-themed food
-- I just got them printed at Staples, then glued them to clothes pins and stuck them on the plates of food.
The shirt was basically a glue gun and some felt. I didn't really want the hassle of an iron-on, since I usually have poor results with those. The back came off in the wash, but she still wears the shirt and loves the caterpillar on the front. We always get comments on it whenever we wear it out.
As you can see, I went all out. And she loved it. I even hung the Hungry Caterpillar wall pictures up in her room when we moved, since we kept it up for the rest of the year. Not sure what I'll do this year, or even if I have a place to do it.
I could do just a family party now and do a barbecue later in the year when it's warmer for her friends, but then there's the mom guilt of not being able to do a full balls-to-the-wall party for her actual birthday.
I always have so much fun planning these things, but when it comes to executing them, my anxiety levels kick into high gear. I'm dreading when I get down to the nitty-gritty details of wedding planning ...