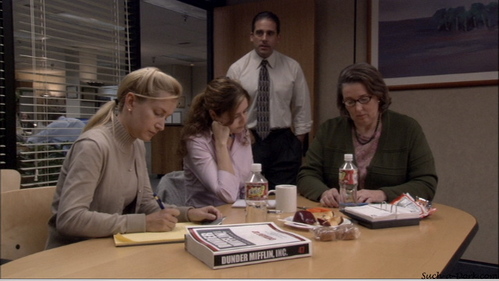 Even this party planning committee would be in
hell trying to find a space for a 3-year-old's party.
I am currently in the throes of planning L.'s third birthday party. It's kind of awful. When the fiance set out to finish the basement, I was told there was a good chance it would be done by the end of February, early March at the latest. Well, there was a snag when the guy who was supposed to hook up the heat had to get surgery on his hand and we now have no idea when it will be done.
Our upstairs is way too small for 15 adults and 5 children. Heck, when we have a simple playdate, it seems crowded!
We recently went to a birthday party for one of Layla's friends and the condo had a nice open floorplan, perfect for kettling little ones, while keeping the parents on the sidelines to act as ropes in a wrestling ring and bounce them back in.
So, last night, about four hours were spent on Google looking for a space to hold L.'s "The Lorax" themed birthday. Holy. Moly. First off, let's put some things into perspective: